Room Details
Description
This Suite praises color, with fluid surfaces and volumes defined through different shades, where the furnishings are inserted with the utmost attention to functionality and design.
"Color Episodes" is located on the second floor of DEMO, with view of the garden of the Briolini Park.
Two-room apartment of 45 sqm with double bed + sofa bed , ideal for 3 adults + 1 child, consisting of living area + 1 double bedroom + 2 bathrooms + 2 balconies.
Among the many services you will find: high quality "Simmons" mattress, bathroom with large shower, safe, minibar, kitchenette, Illy coffee-maker, kettle, air conditioning, heating, hairdryer, ultra-fast wifi network and telephone.
Long live the color!
And then that you enter the scene as a protagonist in every moment of our day and in every space that surrounds us.
Surrounded by monochromatic volumes and enveloped by fluid surfaces, we too make our entrance onto the stage.
Depending on the different functions, the furnishings are canceled in their finishes and materials to leave room for our actions, what is highlighted is the form and function they represent.
Moodboard of the project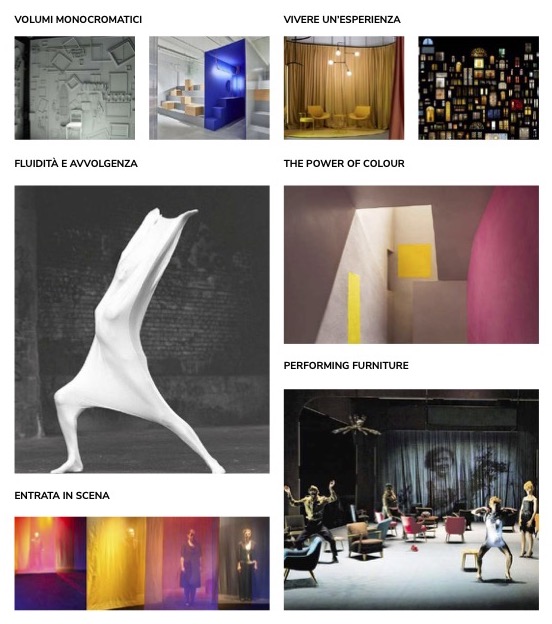 Designer
HUB48
Matteo Bonato, Margherita Fabris and Nicola De Paoli

It is a combination of different and complementary experiences.
Through the approach of its three designers: product designer Matteo Bonato, architect Nicola De Paoli and interior designer Margherita Fabris.
Since the whole is different from the sum of its parts, different experiences allow us to reach an adaptable and functional design method. It is a synthesis between the client's needs and a language of its own in continuous evolution.
Amenities
Bathroom with large shower box
High quality "Simmons" mattress